ABOUT BUY A STAR PACKAGES:
We currently do not sell Name A Star packages on this website, as you will be forwarded to the Buy A Shining Star brand. Currently offering 2 options below for our Name A Star packages. Option 1 will be post mailed worldwide and Option 2 will be an email that you print at the convenience of your home. A Desktop computer and printer is required to purchase the PDF emailed version.
OPTION 1:
USPS POST MAILED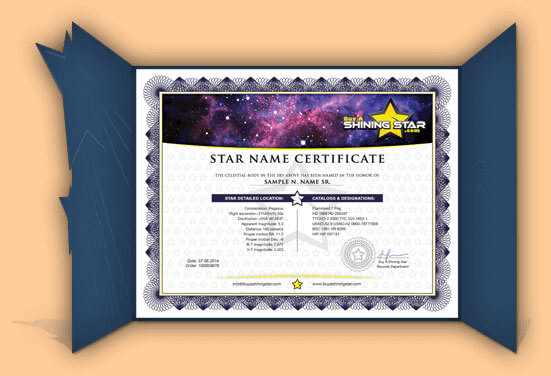 This Buy A Shining Star package is post mailed worldwide with USPS Priority or Express. We offer 8 different Name A Star packages perfect for Valentine's Day, Memorials, Thank You, And really no special occasion. Each package includes a Star certificate with coordinates that designate your star's location. Also your Name A Star comes with the owner's name printed on the star certificate. There are upgrades to these packages and many packages to choose from. Most orders are shipped the same day worldwide!
---
OPTION 2:
PDF EMAIL DOWNLOAD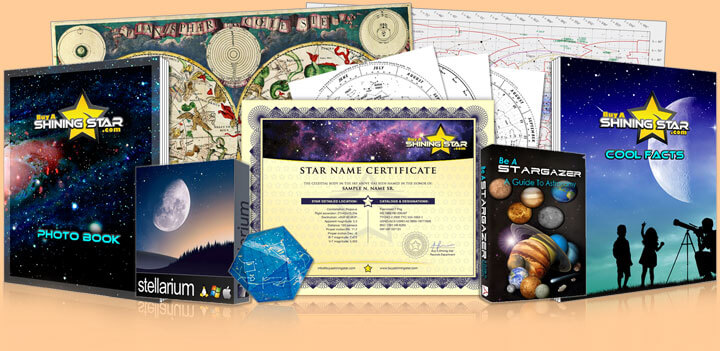 This Buy A Shining Star package is emailed in a PDF Download format and includes a Name A Star certificate with the owner's name coordinates, Be A Stargazer – Guide to Astronomy, Stellarium Star Software, Educational Activities & Star Guides, Star Charts & Celestial Maps, Cool Facts About Stars, and Star Photo eBook.
Most customers purchase a redemption code from Groupon, but you can purchase a redemption code directly from our company. Select this package by clicking on the Buy PDF Email button below.