ABOUT BUY PLANET MARS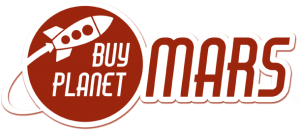 The Buy Planet Mars franchise is tasked with administering and allocating space property located on Planet Mars and the Land On The Moon. Buy Planet Mars records ownership claims in the Official Lunar Registry database. Currently Buy Planet Mars has sold and donated more acres on Planet Mars than all the other competitor companies combined.
MORE ABOUT BUY PLANET MARS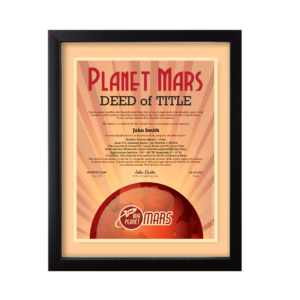 Many years ago Buy Planet Mars was created to help colonize Planet Mars and Earth's Moon to take our civilization well into the 21st century. Buy Planet Mars has a vision of bringing together the millions of space enthusiasts that have purchased land on the Moon as a community, and to develop our communal responsibility for its stewardship. We will also be offering you more experiences and creating a variety of fun gifts to share with friends and loved ones in the future.
And the most important point? Planet Mars is a symbol of hope, romance, achievement and change. There is nothing more symbolic and romantic on Earth one can give to a loved one, than land on Mars. It is not a fad we can toy with and it is not something that will ever lose its appeal. Planet Mars will forever be in our world. All we want is for you your new property on Planet Mars or Land On The Moon. You can look into the night sky and say 'I own a piece of that!'
Due to the worldwide pandemic, we currently offer a PDF email download Planet Mars package. Just purchase the PDF email package and it will be emailed with the recipients name printed on the deed which they can print out in the safety of their own home. Currently our largest customers are Grandparents emailing gifts to their grandchildren. It's an easy and thoughtful way of saying, "I LOVE YOU".
If you are interested in purchasing a PDF email download package, click here www.BuyPlanetMars.com, then "Buy Now" to purchase a voucher code. Once the voucher code is purchased follow the prompts to enter the recipients email and name. Once they receive the email (or you can email it to yourself) download to a desktop computer and print from the files saved. This process should take less than 3 minutes to complete. It makes the perfect Covid 19 pandemic gift.
See you on Planet Mars!